30 Jun

New Growth Opportunity: Indoor Velodromes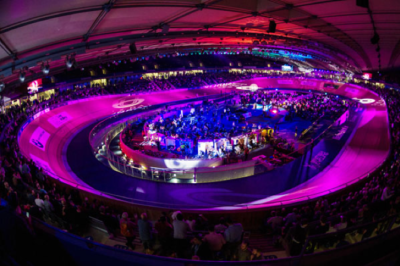 By: David Chauner
Like many Olympic and traditional sports, cycling is facing the need to become more relevant and accessible to modern sports fans. The answer can be the development of indoor velodromes but, so far, the ideal model doesn't exist. That's likely to change soon.
A recent informal survey indicates that there are at least some fifteen communities around the United States that have shown interest in building a velodrome to serve a growing local population of cycling enthusiasts. Given the fact that velodromes are few and far between in this country (there are a total of 25 around the U.S.), particularly when compared to tennis courts, swimming pools and golf clubs, questions invariably arise, starting with the most basic:
What's a velodrome?
Once past the broad understanding that a velodrome is a specially designed banked track for cycling training and racing, the questions continue: How big is it? Indoor or outdoor? What kind of events can be held there? Are they financially viable?
Through several years of research, visiting velodromes around the world and having many meetings with investors, municipalities and community organizations throughout the country, we have identified what we believe are the key elements for creating and operating a successful indoor velodrome we define as "A modest sized (2500 permanent seats) multi-use arena with cycling as its anchor activity." This may not be the best solution for every community but we believe that it provides the best world class option for financial success.
Is 250 the magic number?  The current "Olympic standard" velodrome is a 250 meter per lap properly banked indoor track. Since distances of Olympic and World Championship track cycling events are set in kilometers and timing is a big factor (4 km pursuit, 1 kilometer team sprint, etc.), a track size with an even number of laps to equal one kilometer makes sense. With that in mind, lap distances can be 333m, 250m, 200m and 166m to equal 3, 4, 5 and 6 laps per kilometer respectively. The old Olympic standard of a 333m outdoor velodrome was last used in the 1988 Soeul Olympics in South Korea. Since 1992, the UCI has required Olympics and World Championships to be staged on a 250 meter indoor velodrome.
Truth be told that, of the nearly 500 velodromes in 72 countries, track sizes vary from the Forest City Velodrome, a tiny 138 meter indoor bowl in London, Ontario to 500 meter outdoor stadiums like the Stablinski Velodrome in Roubaix, France that annually hosts the finish of the Paris Roubaix World Cup road race. Notwithstanding the current Olympic standard, all programs from beginner lessons to world class racing can be held on velodromes of almost any size.
In fact, go figure, the UCI's World HQ velodrome in Aigle, Switzerland is 200 meters, refuting its own recommended standard. Judging from past history and current trends, it is quite possible that 200 meters could become the new standard.
Why Smaller is Better. Since most communities won't be staging the Olympics or World Championships anytime soon, the 250 size is less relevant than other key factors that determine a velodrome's ideal size and long term financial viability. For example, a smaller 200 meter track means smaller building, less land, a more intimate spectator experience and about 30% reduction in overall cost in construction and ongoing operation. Even more savings are realized if the size drops to 166m.
When asked why the UCI made their own official velodrome 200 meters rather than 250, a member of the UCI track commission admitted, "It had to do with economics."
Multi-use is Key. The infield of a 200 meter velodrome is about 25,000 usable square feet. It's the perfect size for all kinds of non-mainstream sports events, concerts and public gatherings. Arena football, box lacrosse, World Team Tennis, minor league basketball, any kind of ring event, and e-sports are just some of the events that fit well. The velodrome's natural bowl offers great atmosphere and temporary infield seating around a court or stage that can boost capacity to near 4000. Drop down netting allows training on the track while ball sports can be practiced simultaneously in the infield during times when the arena is not being used for ticketed spectator events.
Form Follows Function. The three most important considerations for a proper indoor velodrome are a clear span ceiling, tunnel access to the infield and seating site lines that take into account the steepness of the banking (generally around 45º in the turns). Everything else from locker rooms to concession stands and all other interior amenities and revenue-generating features can be more or less elaborate based upon budget. There are several attractive, practical building design options including pre-engineered steel buildings and air supported "bubbles" that can bring the cost down. Unless you have an Olympic budget, forget the architectural masterpiece.
Community endorsement. Not every city or town wants a velodrome. We have discovered that most interest comes from "B" markets and suburban towns where there is a need for a modest size multi-purpose arena that offers a local entertainment alternative to big league events, big league prices and big arena operating and marketing costs. Large arenas typically go dark when a big event isn't happening. The beauty of our design is its usefulness for training during those many non-primetime hours in the week when there is no ticketed event.
Financing. This is the make or break reality and principal reason why velodromes aren't in more American communities. In recent times, world class indoor velodromes have been built primarily to stage major international cycling events like the Olympics, World Championships and Pan American Games. The majority of funding for these facilities has come from public sources raised to stage such major international competitions with little concrete planning for legacy programming after the games have come and gone.  Rarely is thorough consideration given for programming that sustains ongoing operations and regularly fill seats with paying spectators.
Construction costs can range from a low of $5 million for a 166 meter track under an air supported dome, like the new Lexus Velodrome in Detroit, to roughly $56 million for the Mattamy National Cycling Centre built to stage the 2014 Pan Am Games in Milton, Ontario. We estimate that a world class 200 meter velodrome within a well-designed 2500 seat multi-use arena can be built for around $25 million.
In any case, financing to build an indoor velodrome must come from multiple sources that are likely to include a creative mix of private equity investment, philanthropic donations, and local, state and national public financing programs. Some of the more recent attractive options include conversion of vacant big box retail stores in repurposed shopping malls and in sites within federally designated Opportunity Zones that provide significant tax advantages to investors.
Bottom Line. Even with answers to all of the above, indoor velodromes are not predictable real estate projects like office buildings, retail stores, warehouses or apartment complexes where operating success and investment returns have proven precedents. The long term viability of an indoor velodrome, particularly in the U.S., is still a leap of faith. Minimally, investors need to see a credible business plan backed by thorough research, management experience and operational and marketing expertise.
Recognizing those challenges has driven us to create a comprehensive operating plan and team of advisors that realistically predicts the financial viability of a properly run, multi-use indoor velodrome. The focus is on a combination of ticketed events and participant usage.
We have thoroughly analyzed and defined revenue sources, marketing and operational costs and the mix of events and programs that are needed to turn a profit. From this we have determined that ongoing cycling events, developmental programs, training camps and a mix of high profile international events and three day World Cycling League Tournaments will make up between 40 and 60% of available arena usage with the remainder available for scheduling concerts, non-cycling sports events and public gatherings and shows. The building can also house leased space for a full service bar/restaurant, sports medicine training and performance lab, retail businesses and conference rooms.
The first "proof of concept" indoor velodrome will create the needed precedent and release the pent up demand for more.
Click here to learn more about the new growth opportunity through indoor velodromes.