30 Jul

TeamTrak's Ten Guiding Principles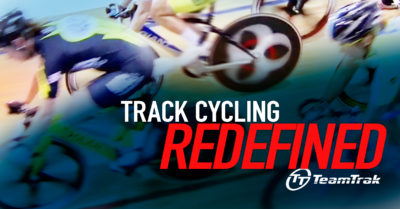 By: David Chauner
Like most people who will read this, I'm passionate about cycling and have been since age 12 when Santa delivered me a Raleigh 8 speed Lenton Grand Prix "racing" bike. It was a DNA-altering event.
In the many decades since then, I've experienced the sport at the highest levels as international racer, TV commentator, journalist, velodrome co-director, UCI events producer, company CEO and keen observer of all things related to cycling.
Through it all, I've believed that cycling can and should be a more popular spectator sport in the U.S. It certainly was in the early 20th century when Madison Square Garden sold out Six Day Bike Races and wooden outdoor velodromes each packed 10,000 or more fans up and down the east coast.
From 1976 to 2012, various partners and I set out to sell Americans on cycling as a big time spectator sport. We created an innovative track racing program that, by 1978, made the Trexlertown Velodrome the most active outdoor velodrome in the world. Starting in 1982 we imported and adapted the UCI road racing model and dropped it into the center of big American cities including Baltimore, Philadelphia, New York, Chicago, Pittsburgh, Atlanta, Minneapolis, Houston, and San Francisco as well as in many smaller communities. We paid good prize money, secured six and seven figure non-endemic sponsors, frequently had live network-quality TV coverage and boasted enthusiastic crowds of as many as 300,000.
Those races are all gone now.
And so are big UCI international stage races and one day classics in the U.S. that were produced by other passionate promoters including the Coors Classic, Tour DuPont, Tour de Georgia, Tour of Missouri, Univest Grand Prix and Colorado's USA Pro Cycling Challenge to name a few. Although these events each drew sizable crowds and TV coverage, only the Amgen Tour of California and the Tour of Utah are still hanging on. A sustainable, robust American calendar of popular pro road races just hasn't materialized.
Despite road racing's U.S. fallout, criteriums are offering an improved spectator-friendly alternative and, like the USA Crit Series, the Intelligencia Cup and others, are creating some fan continuity through linked events, tight courses, improving livestreaming and, in most cases, good announcing. Add cyclo-cross as a developing spectator-oriented success story.
But, face facts, even with some pockets of success, American cycling is still a long ways from achieving a broad fan following and the financial success that other sports, both major and minor, can claim today. Even at the World Tour level and despite the immense popularity of the Tour de France, a recent exhaustive study by Rapha states "There is one conclusion that echoes most loudly from our research, in interview after interview, professional cycling is broken."
So, what's the fix?
To tackle this conundrum, we assembled a team of sports, media and entertainment experts and formulated this mission statement: Bring the best elements of successful modern sports and business to cycling.
Then we added three core values:
Quality…of racing | Legitimacy…of sport | Engagement…with a global audience
We knew the solution had to be developed within track racing, the one cycling discipline that shares the most attributes of the world's most successful modern sports and, interestingly, also has a deep American spectator tradition.
So what's good about track cycling? What's wrong with it? Why hasn't it developed like tennis, NASCAR, soccer, Ultimate Fighting or even Professional Bull Riding and Street League Skateboarding?
The numbers are certainly there. Some 2 billion people cycle throughout the world. The UCI has 174 member countries. In 2016, 12.4 % of Americans cycled on a regular basis. That's a substantial enthusiast base.
But ask 10 American cycling fans why bicycle racing hasn't evolved like other sports and you'll get 10 different answers.
We tackled the question by identifying the key elements that are common to most successful modern spectator sports, applied them to track cycling and came up with the World Cycling League and an innovative TeamTrak® format with ten Guiding Principles that we believe are needed if cycling is to build an enthusiastic, sustainable fan base. Here they are:
1. Exciting content: Speed, elbow-to-elbow races, dramatic moves, ever-present danger, close finishes and suspenseful outcomes are all part of fan entertainment and have to be built in. Bike racing on steeply banked velodromes has it all. It just has to be presented the right way.
2. Relatable, skilled athletes: Fans love athletes with personality: winners and losers, heroes and villains, the crafty ones and those who hang it all out. Reputation is part of it. And so is the skill it takes to do the seemingly impossible in close quarters at breathtaking speed. Track cyclists define athleticism and show no fear.
3. Simple, suspenseful format: Every race must be easy to follow with clear winners and team points that change from race to race and accumulate in real time toward a final outcome. No time trials, no boring officials' instructions, and, at the end of night, the team with the most points wins.
4. Gender equality: The best way to promote equality in sports is to have men and women on the same team, competing in separate races for total team points and equally divided team prize money. In fact, the Most Valuable Rider is the one who scores the most team points, regardless of gender, another factor that adds spice to TeamTrak.
5. Team allegiance: Fans want a home team to cheer for, not a corporate brand that puts customers above fans. Plus home teams will promote regional cycling, attract local sponsors and help justify velodrome development.
6. Compelling for modern viewers: Technology is changing the face of sports. Real time results, stats and highlights must be live-streamed and available on demand to multiple devices. Indoor cycling fans will want to see how their power output, pedal cadence and heart rate compares with the pros and helmets that light up to tag top performers will make the fan experience more exciting. Plus, as sports gaming grows, TeamTrak's series of 12 well-defined races separated by natural pauses will, in an online world, be just long enough to allow for an in-meet wager to be made without disrupting the flow.
7. Dynamic facilities: TeamTrak is spectator entertainment that caters to the fan with state-of-the-art video and scoreboards, great seating, VIP boxes and a themed bar and restaurant overlooking the awe-inspiring velodrome and infield beer garden. Great sound, lighting and top announcing must heighten the fan experience. When not being used for spectator events, the velodrome must be adaptable for training. Major challenge: the archetype indoor velodrome doesn't yet exist and must be created.
8. Feeder system: Young boys and girls are inspired by top level sports competition. TeamTrak is committed to youth programs and talent development camps that provide a "Little League" opportunity for local youth and student TeamTrak teams. But teams and young riders need a safe place to learn, train and race which makes proper velodrome development and usage an important goal in the mix.
9. Impresario factor: No successful new sport or start-up business ever got off the ground without four key attributes of its founders: Vision, passion, persistence and courage to break the mold.
10. Sound business structure: All of the foregoing features won't matter if they aren't packaged into a realistic sports business model. In fact, it's doubtful that without those nine points, the ability to attract sustaining revenue is severely compromised, one of the major flaws of cycling as it exists today. But now, more than at any other time in recent history, the ability to build and monetize a substantial fan base for a "non-mainstream" sport is possible through non-traditional methods offered by the internet and new media distribution channels. Add to that the most important revenue producers for successful spectator sports: controlled venues, paying fans, corporate sponsorship, bundled events, brand licensing, season-long build-up and an experienced team to pull it all together.