This is archived content from the 2016 TeamTrak Pilot
Nate Koch
Rider Number #

11

Speciality

Sprinter

Age

29

Home Town

Long Beach, CA

Country

USA

Height:

5' 11''

Weight:

190 lbs

Years Racing:

6

Education:

Cal State, Long Beach

Career Highlights:




2012 U.S. Nationals Team Sprint, 2nd
2013 Pan AM Championships Team Sprint, 3rd
2015 U.S. National Kierin, 2nd

Assessment:




Popular, flamboyant sprinter
Clever tactician, particularly in the kierin
Always one to engage the crowd
0 Comments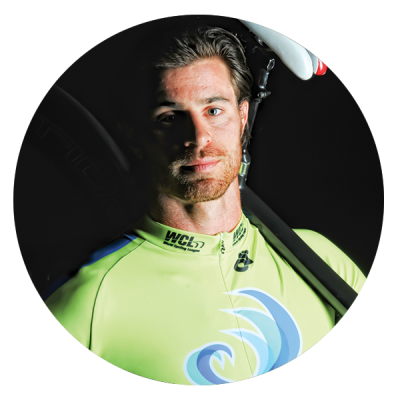 One of the best sprinters to come out of the Golden State, Nate Koch is known around the world as the crowd favorite among the gladiators of the sport. Whether he's hurtling from behind in a 50 mph sprint finish or diving down the banking to catch the others by surprise in London, Berlin or Carson, the Nater knows what the public wants to see in a sprinter: speed, power and caginess.
A former scholarship decathlete at Cal State Long Beach, Nate found cycling and track sprinting at a relatively late age but quickly used his explosive style to make the USA National team where he has collected National Championship and Pan Am medals in the sprint and kierin events. Hands down the biggest fan favorite with fiery charisma that will ignite the home crowd.
CARSON, Calif. — After too many injuries but plenty of desire to still compete, Nate Koch five years ago exchanged pole vaulting, launching a heavy metal ball and running around a track for high-speed...