This is archived content from the 2016 TeamTrak Pilot
Eimear Moran
Rider Number #

52

Speciality

Sprinter

Age

31

Home Town

Tullamore, Ireland

Country

IRL

Height:

5' 6''

Weight:

157 lbs

Years Racing:

2

Education:

University of Sunderland

Career Highlights:




6X Irish National Titlist 2015
Thrives on charisma and crowd energy
Aggressive in the pack and always willing to attack

Assessment:




Versatile and powerful with an amazing engine
An attacking style with no fear of taking on riders with more experience
0 Comments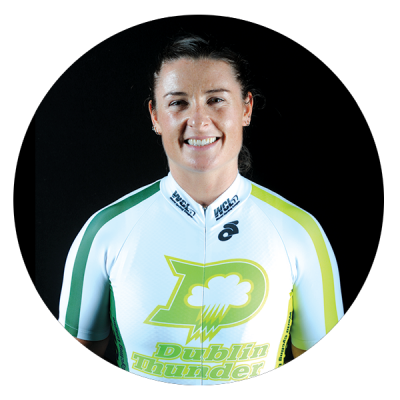 Now 31-years-old and having taken up cycling just over a year ago, Eimear Moran shocked Irish cycling when she took four individual gold medals at the Irish National Track Championship in her first attempt last year! Along the way she set a new Irish 200 meter sprint record and showed amazing versatility by also winning the 10 kilometer scratch race title.
No wonder. This amazing athlete developed her engine through a career in international rowing that included eight national rowing titles by the time she was 17 and top international performances in single skulls and fours at Henley, multiple World Cups, the European Championships and the World University Championships through a ten year career.
One of the few sprinters who has the power to dominate endurance events as well as short sprints.