06 Sep

New Indoor Velodrome Partnership

WCL Inks Deal to Develop Network of TeamTrak Velodromes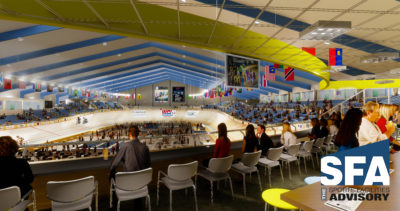 August 25, 2019: World Cycling League signed a partnership agreement with Sports Facilities Advisory ("SFA") to facilitate funding and development of indoor velodromes in the United States.
Sports Facilities Advisory of Clearwater, Florida was founded in 2003 and has become the preeminent resource for those seeking to plan and fund sports and entertainment facilities. SFA has worked with more than 2,000 communities on $10 billion in new projects from traditional sports complexes to specialized facilities like indoor synthetic snow skiing, rock climbing, adventure sports, BMX parks, and more. SFA's sister company, The Sports Facilities Management ("SFM") specializes in the development and operations of venues and has grown to be the largest network of sports tourism venues in the United States.
"The agreement with SFA is a huge step forward in our commitment to create a network of indoor velodromes that will serve as World Cycling League venues and TeamTrak tournament sites. SFA provides the experience and expertise needed to help ensure the financial viability of the multi-use entertainment and sports facilities that we envision," said David Chauner, CEO of World Cycling League.
SFA's strategy is to partner with WCL to first develop and fund the National Velodrome Sports, Entertainment and Conference Center in the Philadelphia area. SFA's development activity will include providing market research, advising on primary programs and services, identifying sports tourism opportunities, providing complete financial analysis and introducing the project to primary funding sources.
"We are quite excited about the partnership with WCL," said Eric Sullivan, SFA Partner. "Although we have not been involved in planning velodromes, this is a unique opportunity to help develop World Cycling League across the country, starting with the Pennsylvania facility as proof of concept followed by New Haven, CT and others."
WCL anticipates announcing specific sites for its Pennsylvania and Connecticut indoor velodromes by early next year.
About the World Cycling League. WCL is the first independently owned, operated and funded indoor track cycling league with focus on developing and marketing track cycling as an entertaining spectator sport. Financed by individual investors, World Cycling League, LLC owns the registered trademarks World Cycling League® and TeamTrak®. For complete information on World Cycling League visit www.worldcyclingleague.com
Contact: info@worldcyclingleague.com
About The Sports Facilities Advisory
Sports Facilities Advisory, LLC (SFA) is headquartered in Clearwater, FL. Founded in 2003, SFA has served more than 2,000 communities, produced more than $10 billion in institutional-grade financial forecasts, and provided funding strategies and solutions for more than 120 youth and amateur sports and recreation complexes worldwide. Its affiliate, Sports Facilities Management ("SFM"), provides industry-leading, results-driven management solutions for sports, fitness, recreation, and event venues nationwide. Since 2014, SFM-managed venues have hosted more than 75 million visitors and generated millions of dollars in economic impact. For more information, visit: www.sportadvisory.com.