27 May

Opportunity Zones and Vacant Big Box Retailers Offer New Indoor Velodrome Options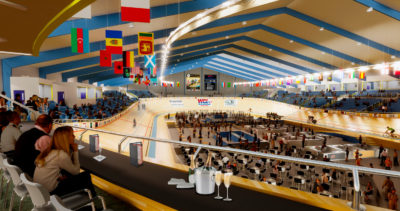 The challenge of building new indoor velodromes has recently become easier through new Qualified Opportunity Zone (QOZ) legislation and the abandonment of mega department stores in great locations.
The challenge has always been securing the right site and then attracting funding from real estate investors, community partners and developers.
Let's face it, indoor velodromes are not typically predictable real estate projects like office buildings, retail stores, warehouses or apartment houses. For investment purposes, velodrome revenue projections, even with multi-use activity, are even hard to compare with somewhat similar facilities like ice rinks, music venues or indoor sports complexes.
But there is a first for every successful real estate project. It takes a visionary team and a unique set of circumstances to create the first one. The bolder the idea, the bigger the challenge.
The federal government wants to encourage bold development in turnaround communities where vision—and money—are typically scarce. As a hot new economic driver, QOZ Funds offer investors a chance to reduce or eliminate capital gains taxes by sinking money into redevelopment projects that enhance underserved communities through creating new jobs, stimulating new business and attracting new visitors and residents.
And instead of tearing down vacant Sears, Kmart or JC Penny department stores, why not convert them into multi-use sports and event centers with an indoor velodrome as the unique draw? We've found that by gutting the interior and creating a new free span roof, the savings in site improvement, parking and access are substantial.
That's why the concept of our National Velodrome Sports, Entertainment and Conference Center (NVECC) can fit in many locations. Its attractiveness as a unique multi-purpose destination venue for robust year round cycling programs, concerts, public gatherings and special sporting events of all kinds fits well into the types of projects that attract QOZ Fund investors and that can help turn struggling malls into entertainment centers. Of course the three main rules governing real estate value–location, location, location–can't be ignored.
It's important to note that, "If you build it, they will come" is simply not enough. The facility must have a strong multi-use operating model and full blown marketing campaign, particularly when the goal of QOZ's is to create sustainable community assets and offer long term tax advantages to investors. The same applies to the conversion of a big box retail space into a small arena.
Several sites being considered for the NVECC in the Philadelphia and New Haven markets are in Qualified Opportunity Zones or in locations where retail is hurting. The NVECC can be a unique driver in a QOZ or repurposed mall when it's part of a broader mixed use plan that includes some retail, commercial space, residences, hotels, restaurants and complimentary sports and health facilities.
But even within a QOZ mixed development, the long term viability of an indoor velodrome, particularly in the U.S., is still a leap of faith. Investors need to see a credible business plan backed by thorough research, management experience and operational and marketing expertise.
Buying into the vision becomes the driver. It reminds me of the early history of the outdoor velodrome in Lehigh County, PA that was built by philanthropist Bob Rodale on land he owned in the sleepy village of Trexlertown. The first day that Jack Simes and I reported to Bob to start work, he showed us the local newspaper with a huge picture of the empty velodrome and the headline: "Rodale's Velodrome a White Elephant". To make a long story short, within three years we had turned T-Town into the best outdoor velodrome in the world and established a daily paid attendance record of over 4,000 fans, most of whom had never heard of a velodrome.
What was done then can be done better now. With perseverance, new financial opportunity, a dynamic forward-thinking plan, and qualified management it will happen again.
Stay tuned!
Dave Chauner
CEO, TeamTrak by World Cycling League